Analisa Emas 2012
Analisa emas ini disarikan dari kultwit Endy J Kurniawan, pengarang buku Think Dinar.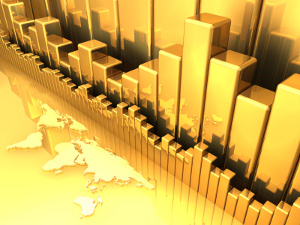 Ternyata para investor di barat sudah bersiap mengantisipasi QE3 (Quantitative Easing atau dengan kata lain pencetakan uang kertas baru) dengan melakukan ancang-ancang memborong emas. The Fed mengambang soal kebijakan moneter karena merasa dollar sudah sangat kuat. Hal ini menyebabkan harga emas pekan lalu jatuh hingga USD $50. Kenaikan yg sama dg awal Juni lalu. Awal Juni lalu emas naik 4,4% dalam semalam karena investor 'menyangka' The Fed akan mengeluarkan stimulus yang dipicu pengangguran tinggi. Kamis-Jumat pekan lalu, emas turun 3,3% dan perak turun 6,4%. Sepanjang 2012 ini emas (dlm harga mata uang USD) baru naik 0,3%.
Di sisi lain, bank-bank besar justru memborong emas secara perlahan karena mereka merasa kawatir akan paket stimulus QE3 yang sedang disiapkan Fed. Fakta ini berlawanan, misalnya, adanya 'perintah' otoritas keuangan di India agar masyarakatnya tdk lagi invest di emas. Lalu analis menghitung ke belakang. Ketika QE1 keluar emas naik 36% dan saat QE2 keluar emas naik 21%. Jika QE3 terjadi tahun ini berapa naiknya ?
Selengkapnya silahkan lihat di cikarangdinar.com